"The big question on peoples mind is where is it safe if Yellowstone Supervolcano erupts? During the eruption, people would need to evacuate the western part of the United States and head towards the eastern seaboard to ensure their safety."
"Over the past 2.1 million years Yellowstone volcano has had three immense explosive volcanic eruptions that blanketed parts of the North American continent with ash and debris. "
…. useless graphic in the undated article: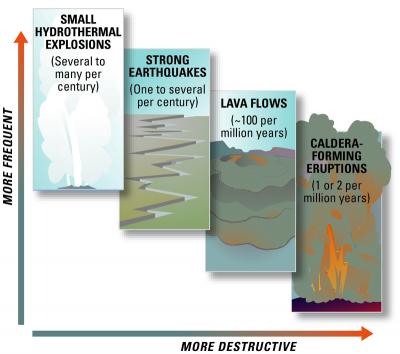 But that "not in a million years" pep talk on the USGS page differs from what they tell Washington.
Look at this 2014 paper from the USGS's Yellowstone Volcano Observatory –
Protocols for Geologic Hazards Response by the Yellowstone Volcano Observatory 

–

 PDF
(from page 7:)
"As needed, YVO will be an advisor within the National Incident Management System. The YVO Branch within the Plans Section of the Incident Command will consist of two prescribed groups (Monitoring and Information). The two groups and their subsidiary teams form a scalable system to respond to a variety of scenarios of geologic and volcanic unrest. The YVO response will be led by the YVO Branch Chief (also known as the Scientist-in-Charge) with the assistance of group supervisors and team leaders.
Formal alerts and information statements will be issued by the U.S. Geological Survey (USGS) in conjunction with
YVO member agencies and through standard telephone and Internet "calldown" lists. External communications will
be coordinated by the public information team leader, in association with any Joint Information Center set up through the Incident Command. Internal communications will be handled through a computerized log system that can be used as an archive for public and non-public documents, and to provide a forum for discussion by observatory personnel and collaborators."
See how they separate information into "public and non-public" groups? Like they're going to tell the public the truth about the volcano that's been a bucking bronco this week. (opinion) – FC
In 2006 USGS came up with a color coded Alert-Notification System [PDF] – it may or may not be upgraded to include a cell phone robo-call Alert.
"An eruption would have 2,500 times the force of Mt. Saint Helens in 1980."
LINK – https://youtu.be/YbHwPzYmRs4
2014 article by Zachary Stieber –
"If the Yellowstone supervolcano erupts then millions of U.S. citizens could end up in Brazil, Australia, or Argentina."
"That's according to the South African news website Praag, which said that the African National Congress was offered $10 billion a year for 10 years if it would build temporary housing for Americans in case of an eruption."
Too close for comfort? Boulder lies more than 400 miles from Yellowstone. Would we actually be affected by such an eruption?  By Terri Cook
2018 – The Mercury News – The supervolcano under Yellowstone should make you worried
". . . it was only in the 1960s that scientists realized the scale of the volcano – it's 44 miles across – and not until the 1980s did they grasp that this thing is fully alive and still threatens to erupt catastrophically."
In NONE of these planning papers we read from FEMA and emergency planners do they ever take into account traffic jams which render evacuation IMPOSSIBLE. The US western states are sparsely populated and roads cannot handle millions of cars all headed east at the same time.
How Hurricane Rita anxiety led to the worst gridlock in Houston history
"In the Houston area, the muddled flight from the city killed almost as many people as Rita did. an estimated 2.5 million people hit the road ahead of the storm's arrival, creating some of the most insane gridlock in U.S. history. More than 100 evacuees died in the exodus."
Idiotic hand out from FEMA     |     Another one
Brock Long's Strategic Plan – so useful in the California fire swarms this year.
What do these "planners" think will happen to people in cars stuck in remote countryside and farmlands do when rocks are raining down and the sky is darkened by billowing ash clouds? Does it cross their minds there might be raving mad panic in a traffic jam of millions?  If an eruption entails earthquakes will there even be electricity to power gas station pumps to enable people to flee? In Rita the gas stations were out of commission.